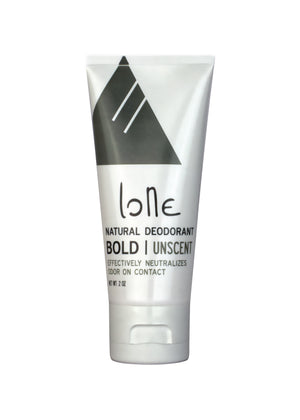 BOLD SQUEEZE! Unscent | Natural Deodorant
Sale price Price $ 9.95 Regular price
Yes, we can proudly offer an unscented version, because this deodorant doesn't need a scent to effectively "kill it" all day long,
Our classic Bold formula, now available in a squeeze tube + silicone applicator for better coverage and absorption.  Formulated without hard wax and concentrated to last through whatever the day brings, our Bold Deodorant is perfect for all body types and gentle on sensitive skin. 
All day protection with one application.

Beneficial minerals neutralize odor on contact and create a healthy environment that odor causing bacteria cannot thrive in, eliminating the cause of body odor, not just covering it up.

Non sticky feel that is comfortable on underarm hair.

Skin conditioning ingredients.

Free of: Aluminum, Propylene Glycol, Parabens, Phthalates, Artificial Fragrance, Triclosan and all the other bad things.

No Baking Soda.

Cruelty free. No animal testing or animal products.

Made in small batches in the Pacific Northwest!

Net Wt. 2 oz.
Silicone Applictors
Silicone applicators are available to add to your cart for an easy, no mess application. Applicators are reusable and do not need replaced with every deodorant order.
RECURRING ORDERS - Please choose NO Applicator and then add the applicator to your first order.  These applicators last forever so, to avoid sending them out unneeded, please request one when you need another!

Ingredients
Precipitated Dead Sea Salts in Distilled Water, Saponified *Coconut Oil, *Shea Butter, *Coconut Oil, *Jojoba Oil, Sodium Borate.
*Certified Organic Ingredient