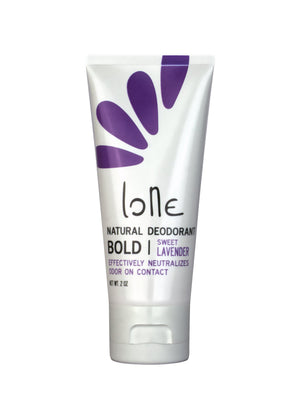 BOLD SQUEEZE! Lavender | Natural Deodorant
Sale price Price $ 12.60 Regular price
Basic lavender gets a glow up with just a touch more sweetness and balanced woody notes.
All day protection with one application.

All natural and organic ingredients.


Non sticky feel that is comfortable on underarm hair.

Skin conditioning ingredients.

Baking soda free, aluminum-free, paraben-free


No propylene glycol, phthalates, artificial fragrance or triclosan.

Cruelty free. No animal testing or animal products.

Made in small batches in the Pacific Northwest!

Net Wt. 2 oz.
Silicone Applicators
Silicone applicators are available to add to your cart for an easy, no mess application. Applicators are reusable and do not need replaced with every deodorant order.
RECURRING ORDERS - Please choose NO Applicator and then go to the SHOP page and add 'Silicone Applicator' to your first order.  These applicators last for a long time, so to avoid sending them out unneeded, please request one when you need another! 
Ingredients
Precipitated Dead Sea Salts in Distilled Water, Saponified *Coconut Oil, *Shea Butter, *Coconut Oil, *Jojoba Oil, *Lavender Essential Oil, Sodium Borate, *Vanilla Infused Coconut Oil, Essential Oils of: *Frankincense, *Vetiver, *Ylang Ylang.
*Certified Organic Ingredient