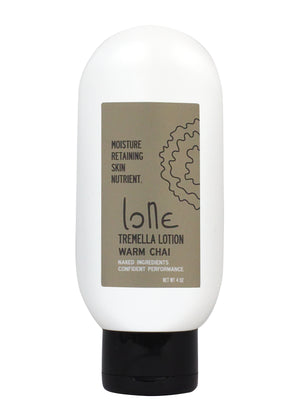 Tremella Body Lotion | Chai - OUT OF STOCK
Sale price Price $ 11.00 Regular price $ 11.00
Wear your cozy. It smells like crisp, fall days and no to-do list. It feels like dreamy, winter afternoons wrapping itself around you in silky, hydrating perfection. Our artisanal extraction of Chai infused Coconut Oil makes this the lotion that will take you to your comfort zone anytime, any season.
Legend has it, that Yang Guifei was considered to be one of the most beautiful women in Chinese history. Tremella was her beauty secret.
This lotions' secret is also Tremella, also known as Snow Mushroom. Instead of using pre-made lotion bases, we carefully handcraft our formulas with the highest quality skin nutrients because we think every ingredient matters. Go on, make it your secret.
Packed with intensely hydrating oils and hydrosols for smooth delivery and obsessively soft skin.
Tremella Mushroom competes with Hyaluronic Acid in moisture retention, drawing moisture to the skin, and is abundant in skin enriching polysaccharides. 
A handcrafted, creamy base of antioxidant rich oils and hydrating Tremella Mushroom deliver an unmatched moisturizing experience.
These statements have not been evaluated by the Food and Drug Administration. Our products are not intended to diagnose, treat, cure or prevent any disease.
Ingredients
Tremella Mushroom Tea, *Vanilla Infused Coconut Oil, Vegetable Emulsifying Wax, *Argan Oil, Chai Infused Coconut Oil, Hydrosols of:  *Helichrysum, Melissa and *Chamomile, *Jojoba Oil, *Grapeseed Oil, Cocoa Butter, Candelilla Wax, Boric Acid, Grapefruit Seed Extract, Vanilla Bourbon Oil, *Cardamom Oil, *Nutmeg Oil, *Clove Oil, *Cinnamon Oil.
*Certified Organic Ingredients