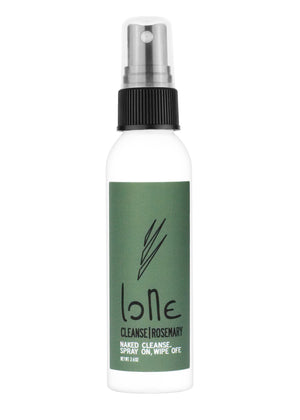 Cleanser | Rosemary
Sale price Price $ 8.00 Regular price $ 8.00
ANYWHERE, ANYTIME CLEANSING. NO SINK REQUIRED! 
It is important to remove dirt, toxins and sweat from our skin without removing key nutrients and natural oils by over cleansing. Meet the solution!  Our nourishing cleanser that balances out skin tone, removes pollutants and leaves your skins' natural defenses intact. 
Convenient - Simply spray this cleanser on and wipe it off with a clean cloth of your choice. (We recommend bamboo washcloths)
An Adventurers Best Friend - This cleanser requires no extra water use and is packed with non-toxic, natural ingredients that won't damage the ecosystem.
Beneficial for all skin types from acne prone to aging skin.
Soapberries - Biodegradable cleansing agent that gently removes buildup from the skin.
Yarrow - Natural astringent and tonic. Helpful for oily, acne prone skin.
Nettles - Antioxidant and mineral rich. 
Chamomile - Moisturizing and calming.
Rosemary - Nutrient dense and balancing. 
These statements have not been evaluated by the Food and Drug Administration. Our products are not intended to diagnose, treat, cure or prevent any disease.